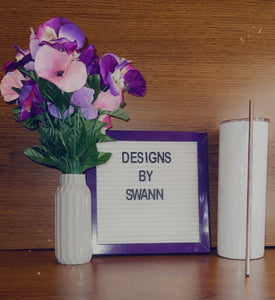 20oz Straight Skinny Sublimation Tumbler
29 ounce tumblers
Very fast and very nice to deal with. Getting straws, bottoms, and the cup is a miracle plus. Keep up the good service.
Love them
Excellent customer service! Shipping super fast! My tumblers turn out beautiful every time!
Quick delivery and just what I needed…thanks
Bad batch
I've ordered from her before and they were amazing. This batch was horrible to work with a very basic design. I ended up needing to bake it for about 10-15 mins before subbing on it.
Thank you for the review. As stated by you in your message, 'it burnt real bad.' A tumbler that has been burned due to incorrect time/temperature will not show the same signs as bad batch tumblers. You didn't bother to mention that I shipped the order the same day you purchased because you needed them by a specific date and wasn't charged extra for it. I strive to provide quality products and great customer service. Have a great day!